Learn a gorgeous Tunisian crochet stitch that can make easily just by following few simple steps. The texture of the pattern is very rich and gives the fabric a very thick look.
THE TUNISIAN CROCHET STITCH
Tunisian crochet is a mixture of both knitting and crocheting. But it is different from both of these techniques. So, basically when you are making Tunisian crochet pattern you are working with all the stitches in a row instead of a single stitch. The stitches are held on a cabled hook or an extended hook.
Stitches Related Posts:
Related Posts
There are many projects that you can make by using this tunisian crochet stitch. You can make blanket, scarves, hats, tops and what not.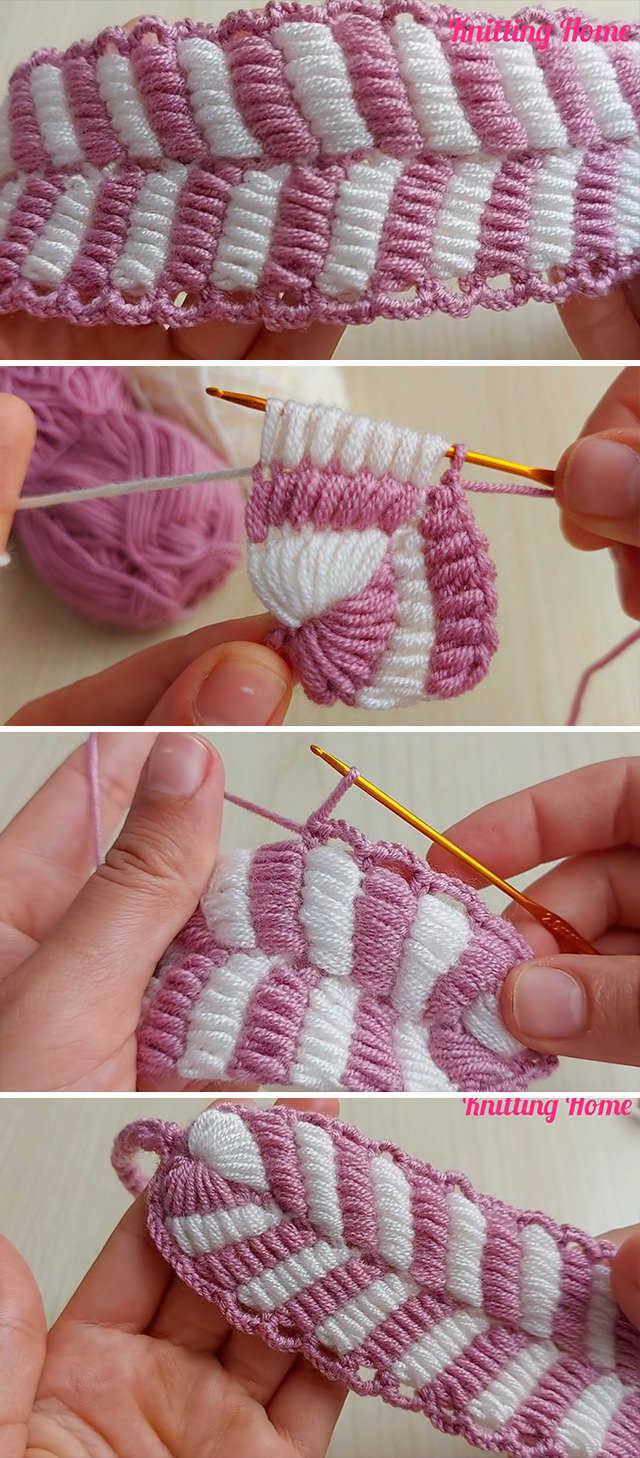 Materials
To create this pattern, you will need a crochet hook of 3.5 mm and medium worsted yarn. Each row is worked in two passes to make a textured, thick cloth that has a woven effect.
Pattern of Tunisian Crochet Stitch
Make a chain 4 then insert the hook into the last stitch and pull through a loop. You will have 2 loops on the hook. Pull the yarn through these 2 loops to make 8 more loops. Then again pull the yarn through all these loops. In this way, you will get 10 stitches.
Time to change the thread. Insert the white yarn inside the magic circle and again make 8 loops. Once they are made, pull the yarn through them like you did before.
Make stitches from the semicircle you have made first from purple color yarn. You will be pulling the stitches from the base. You will get 7 loops on the hook again. Now pull the yarn through all these 7 loops as well. Turn the pattern and switch the color to purple again. Make loops again by pulling the yarn through the base stitches.
Follow this pattern until you reach a desired length.
Make chain 4 and insert and insert it to the edges of the pattern.
Make a small chain of stitches all around the pattern. Your pattern is complete and you can use this tunisian crochet stitch to gift someone or for your own self.
Ideas
This tunisian crochet stitch is super easy to follow. You can use different color if yarns according to your own choice. The final product will be a winsome choker or necklace that you can use for yourself or gift to your loved ones.
Follow CrochetBeja on your favorite social media sites:  Facebook,  Pinterest, Youtube ,  Instagram and subscribe for the Newsletter so you don't miss a thing!
Tutorial and photos of this pattern by: Knitting Home.