Crochet tape lace ribbon is among the most interesting patterns in crochet world. Check this tutorial and pattern that are very detailed and easy to make.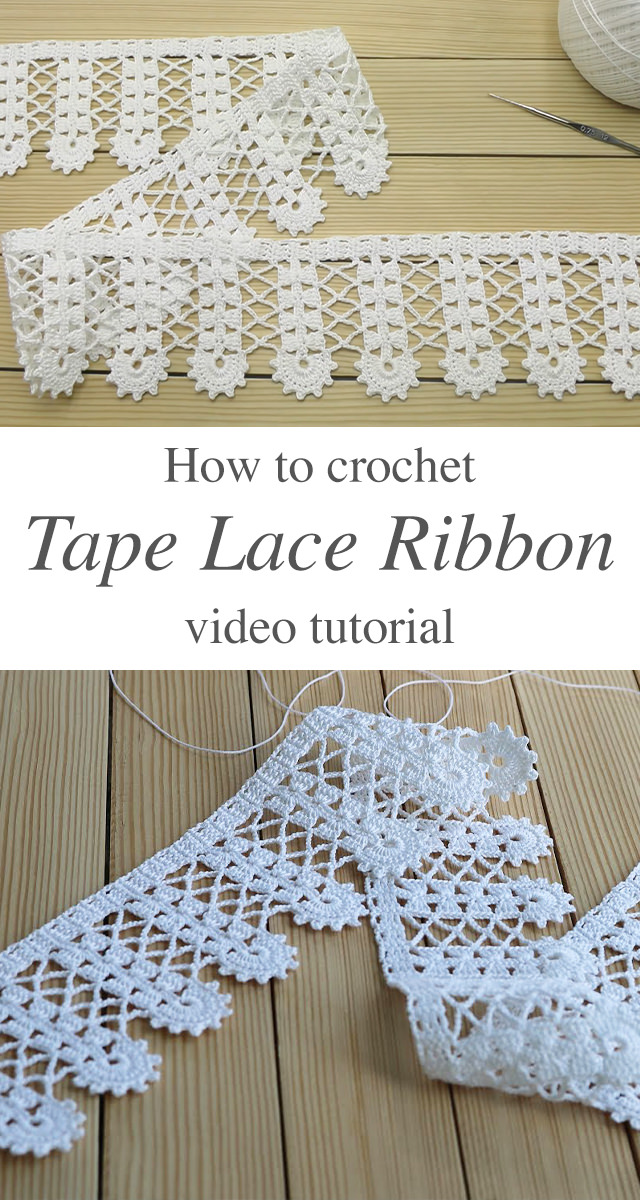 THE CROCHET TAPE LACE RIBBON
You can add a combination of various colours in crochet tape lace ribbon to make embellishments for clothes or for home décor. In short, you can use the ribbon in as many ways as you want. The winsome tape lace pattern provides room for creativity. Like you can make basic shapes such as triangles, ovals or hexagons along with addition of Irish lace.
Tape Lace Related Posts:
Related Posts
The best part about the crochet tape lace ribbon is that the tapes can be made in a variety of lengths and shapes.
Tips
This pattern contains repeating fragments that are crocheted to a desired length. The opposite side of the lace is exactly same as the front. To create this beautiful crochet tape lace ribbon you will need thin cotton yarn of about 50 grams and a crochet hook of 0.75 mm.
How to make Crochet Tape Lace Ribbon?
Make a first loop with lace and crochet a chain of 34 air loops. Now, countdown to 7th stitch of the chain and insert crochet hook into it to make a single crochet.
This single crochet will act as a base. Now, make single crochet stitch in all remaining chain stitches.
Make 4 chain stitches. Turn the pattern to other side and insert the hook into the 3rd stitch of the base. Make 3 double crochet and insert the hook in the next 5th stich to make 4 more double crochet. Repeat this pattern till the end.
Now make a loop, yarn over and insert the hook into the ring which we have already made on the base. Make 16 double crochet inside this ring.
You will repeat the same pattern on the other side of the lace fragment. Make a loop and insert the hook on the opposite side of the column. Make single and double crochet, like you did while making the first side of fragment.
Uses
There are number of projects in which you can use this crochet tape lace ribbon. You can wrap it around a flower jar, use it as napkin ring.
Moreover, you can adorn your shawls, pillows, cushion cover, halter tops with it. You can use it as border for edging the towels, pillowcases, handkerchief and what not.
Follow CrochetBeja on your favorite social media sites:  Facebook,  Pinterest, Youtube ,  Instagram and subscribe for the Newsletter so you don't miss a thing!
Tutorial and photos of this pattern by: Уроки ВЯЗАНИЯ Литке Татьяны.