These beautiful crochet lace flowers are creative and decorative for so many crochet projects. Crocheting this flower will be enjoyable for both beginners or experts because this flower is very simple to make.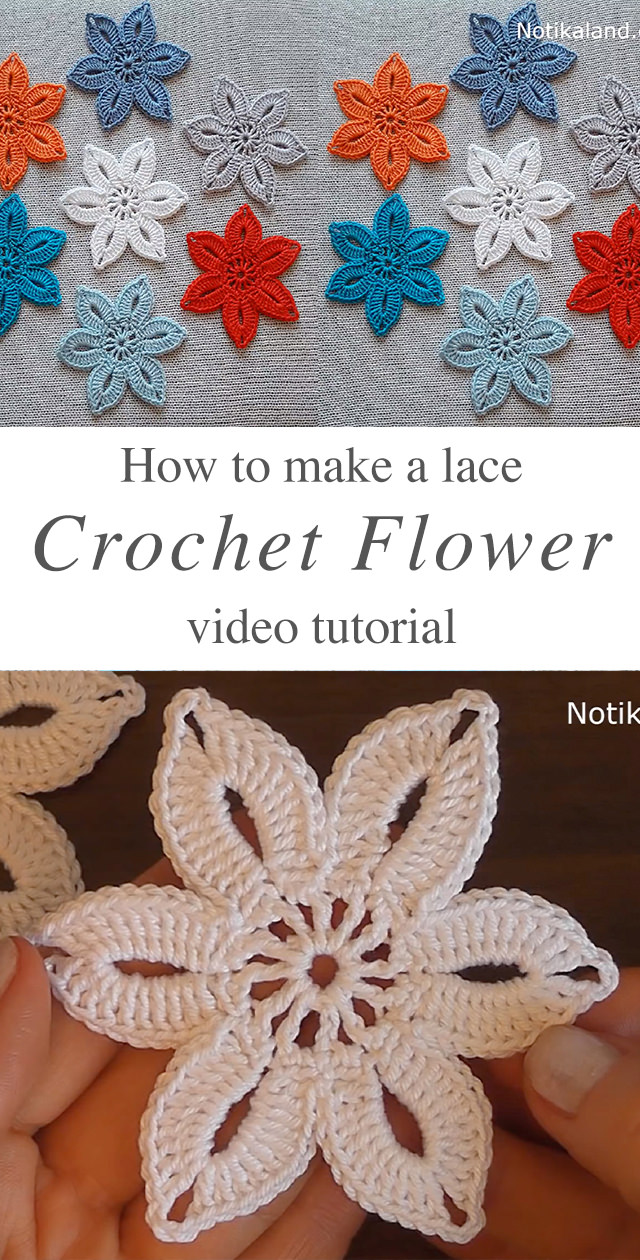 HOW TO MAKE THESE CROCHET LACE FLOWER
Colour is not a limit when crocheting these lace crochet flowers! You can make these flowers in any colour, and it would look beautiful nevertheless. White and beige colors are classic colors for living room decor. But you are not limited to complimenting your home's theme colors! If you have a theme like white and red, you should definitely make your flowers with colours that compliment that theme.
Crochet Flower Related Posts:
Related Posts
If you have a theme like white and red, you should definitely make your flowers with colours that compliment that theme. There are many uses for this pattern such as emplishments or practical uses for your home furniture.
There are many things you can adorn with these simply gorgeous crochet lace flowers! You can use these flowers to embellish accessories such as a hat or headband. These flowers would look very cute on a sweater or a chic summer wrap. Imagine how elegant you would look in a shawl with the perfect accessory of flowers! You can even add them as an accent on a special journal or on the family album.
These simple crochet lace flower are also perfect for decorate your home! Make a few flowers together to make a table runner and place them on your coffee or dining table. These can be colorful, two colored, or a simple white or beige color.
These flowers add a stylish and charming look to your home! Embrace the summer season fully by pursuing these exciting crochet flower projects!
If this is your first time making these simple flowers, you should definitely use a smooth yarn in a weight that you are comfortable using. You should avoid using thick yarn, as the weight and bulkiness could look you flowers look messy. Instead, consider using a fine crochet thread to make these crochet lace flowers.
I also recommend using yarn that has a glitter thread in the mix because it makes the crochet lace flowers stand from the solid colours. In daylight, the glitter flowers shine and look absolutely stunning!
Watch this free video tutorial to get started on one of these very easy flowers. Thanks so much for reading and visiting!
Follow CrochetBeja on your favorite social media sites: Facebook, Pinterest, Youtube, Instagram and subscribe for the Newsletter so you don't miss a thing!
Crochet lace flowers by: NotikaLand crochet and knitting.