Learn how to crochet coasters in different colours, shapes, patterns, and sizes! Watch the full step by step tutorial to make a lovely crochet coaster.
WHAT YOU WILL NEED TO MAKE THE CROCHET COASTERS?
There is a specific type of yarn that is needed to make these unique crochet coasters. To explain, you will need 100% super mercerized cotton crochet thread. This way, the size and the material of the crochet coasters vary little from the video tutorial. You also need a number 6 needle or a 3.5 mm crochet hook.
Coasters Related Posts:
Keep reading for a few additional creative ideas to incorporate to your coaster. Also learn how to crochet these charmingly unique  coasters in different shapes.
How To Crochet Coasters in low costs
The most economical and easiest of the crochet coaster pieces is a lovely inner circular pattern with holes/lacey look to it and closing off with a wavy or flowery edge pattern. This particular pattern is 36cm in diameter and uses only 113 meters of yarn.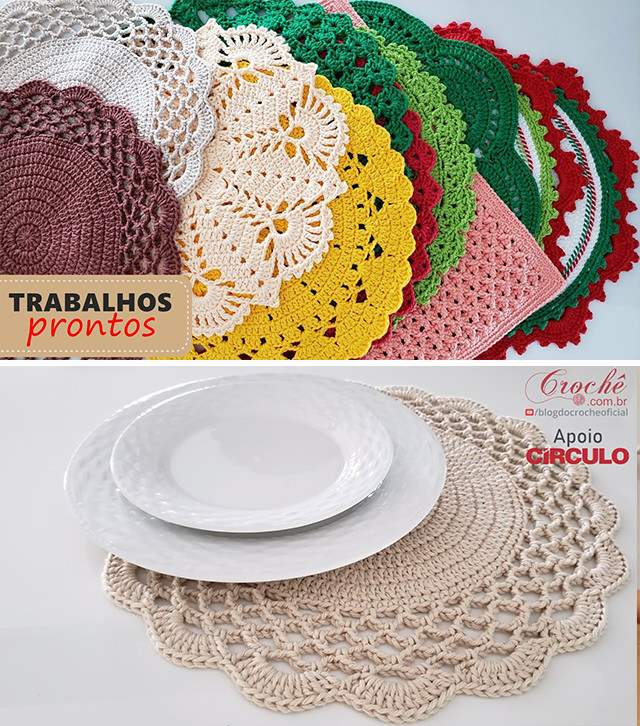 Another economical decorative coaster to make is a snowflake pattern coaster which is about 38cm in diameter and 170 meters of yarn to make 2 varying pieces, a larger one and a glass coaster sized one.
You can move on from circular patterns and make a simple but detailed crochet rectangular coaster model. The pattern for this model consists of beautiful cross stitches that is 32cm wide and 45cm long and consumes 226m of yarn.
It also contains a simple linear but patterned border. This rectangular coaster looks wonderful when set on a table with plates and glassware!
Also check out these adorable crochet paw coasters that are perfect for protecting your furniture from hot beverages while fashionably complimenting your mugs and glasses!
Follow CrochetBeja on your favorite social media sites:  Facebook,  Pinterest, Youtube ,  Instagram and subscribe for the Newsletter so you don't miss a thing!
Tutorial and photos of this coaster by: Blog do crochê. You can find other shapes of coasters here.