Learn how to make this trendy crochet popcorn stitch bag! Not only is it easy to stitch, but the bag itself is the most elegant and comfortable crochet bags I have made.
LEARN HOW TO CROCHET POPCORN STITCH BAG EASILY?
The crochet hook you should use is a 3 mm. Make sure that your stitches are tight and measured. The best yarn to use for the purpose of achieving maximum tightness is the polyester macrame.  If you notice that your crochet bag design starts to feel stiff, it is because of the tension due to the tight stitches which also means you are on the right path!
Crochet Bag Related Posts:
Related Posts
This gorgeous crochet popcorn stitch bag is very useful and ordinarily used and accessorised by both kids, teens, and women. Join the trend with a twist of crochet by making this easy crochet bag!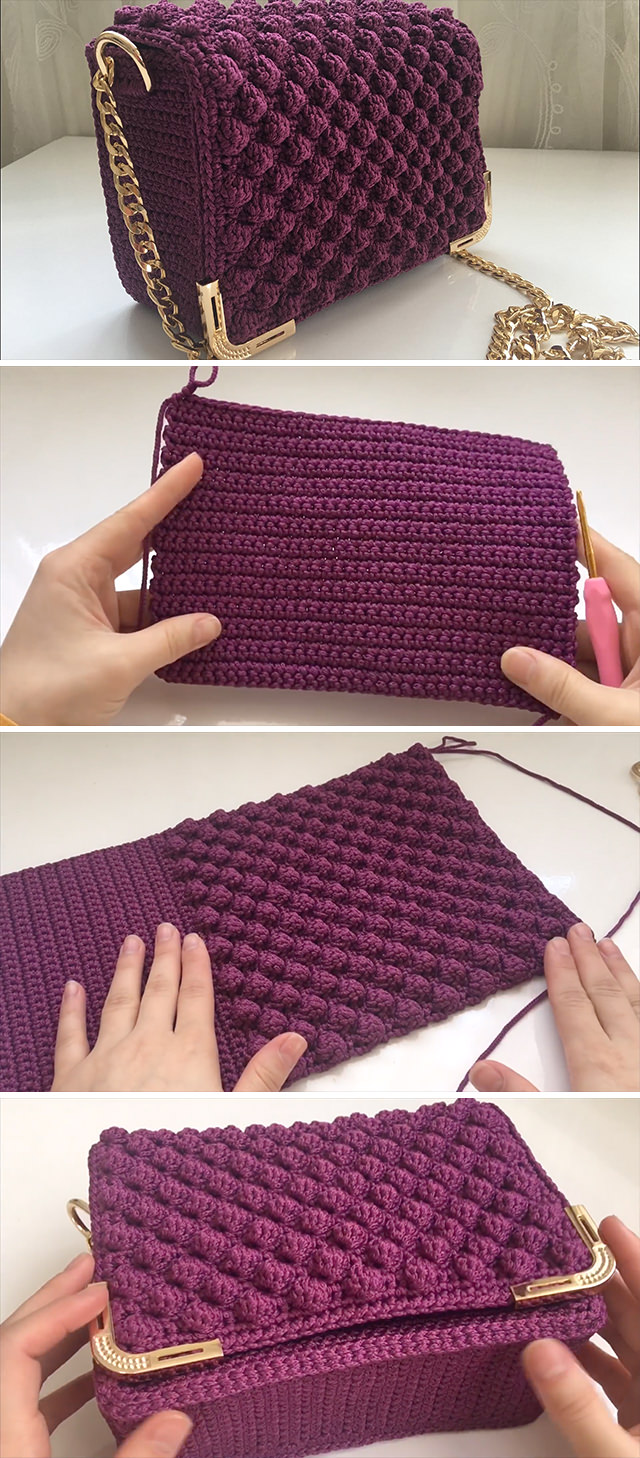 The base is an rectangle base with a spike model. The sides of the crochet bag are spirally braided without a spike pattern and in uniform. Your final product should have a base height measuring to 21cm. The base width of the crochet bag measures to 14cm while the length of the bag is 21cm long. All the central part is made with the crochet popcorn stitch.
You can also adorn your crochet bag with beads or buttons to add a vintage look or those popular furry pom poms keychains. You can even add a leather tassel charm to your trendy bag!
This crochet bag with a sturdy base and fashionable lid is unique. This kind of bags are a huge trend right now, but this fancy stitch is unlike any brand bag you can find online. This crochet popcorn stitch bag with a lid has a vintage feel to it that is missing from more modern bags you see nowadays.
Be sure to come back every day for more free tutorials!
Follow CrochetBeja on your favourite social media sites: Facebook, Pinterest, Youtube, Instagram and subscribe for the Newsletter so you don't miss a thing!
How to crochet popcorn stitch bag  photos and video by: Ayşenur'un Kanalı