This crochet Tunisian stitch is very unique because it's made with crochet hook and looks like knit. The tutorial will help you create beautiful projects.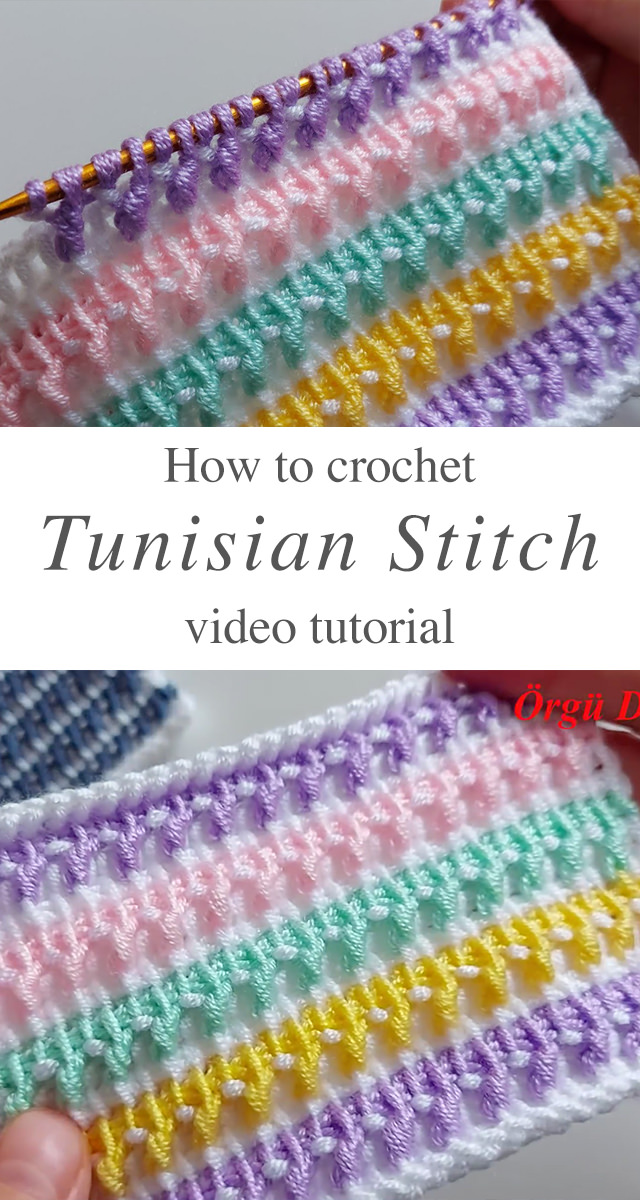 UNIQUE CROCHET TUNISIAN STITCH
The fabric that is made from this crochet Tunisian stitch is very unique and different from the traditional crochet fabric. The surface will have very tiny holes and is dense and sturdy. To put in simple words, if knitting and crocheting got married, Tunisian stitch will be their off spring.
Tunisian Related Posts:
Related Posts
You can make anything you want from this beautiful crochet Tunisian stitch. Whether you want to gift your loved ones a blanket or want to crochet a scarf for yourself, Tunisian stitch will do wonders.
Materials
To make this crochet tunisian stitch you will need a crochet hook of 3.5 mm, and some yarns in beautiful colors. You can add as many colors as you want. The final product will give you a thick fabric look. Also, the crochet fabric will be stretchable. Grab your hook and yarn of your favorite color and create something by following this pattern.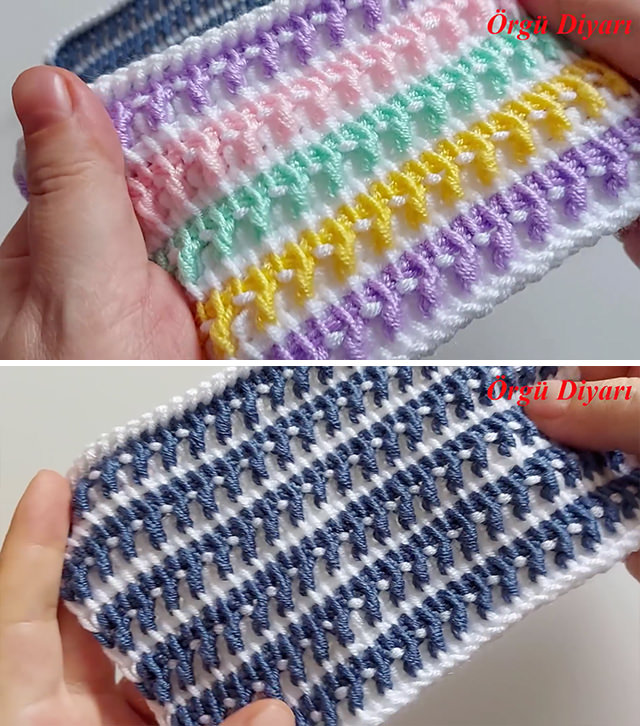 How to make this Crochet Tunisian Stitch?
Make a foundation chain of desired length and be very careful while pulling the chain. Don't pull the chain tightly because you won't be able to collect the loops in next step.
Once you have made the chain, draw loops from the hook in each stitch. Follow the process until you get at the end of row.
Now pull the yarn again through these loops. You will get 20 loops in the end. In this way you will get 2 rows. Again make loops by pulling the yarn through each loop. In total, you will get 4 rows in white yarn.
Time to add a new color to the pattern. Insert the crochet through the loop and make a single crochet handrail. Then, start crocheting loops. Again switch to white color and make 2 rows of loop.
Add yellow color to the hook and make 2 more rows of loops with this color.
Repeat this pattern by adding any color you want.
The final product will be stretchy, soft textured and thick.
Uses
This crochet tunisian stitch is fun to make and provide room for creativity. Moreover, you can make a variety of products by following this unique tunisian stitch. You can make cardigans, crochet coins purse, bags, hand warmers, scarves, pillow covers, Afghans, blankets, socks, baby vest or anything of your choice.
Follow CrochetBeja on your favorite social media sites:  Facebook,  Pinterest, Youtube ,  Instagram and subscribe for the Newsletter so you don't miss a thing!
Tutorial and photos of this stitch by: Örgü Diyarı KNİTTİNG.