This free video tutorial will teach you how to make the Tunisian knit stitch, with the paradoxical name. The reason why the Tunisian knit stitch is a paradox is because it is a crochet stitch that looks knitted. This stitch will come in handy if you prefer your crochet work to look knitted for a specific project.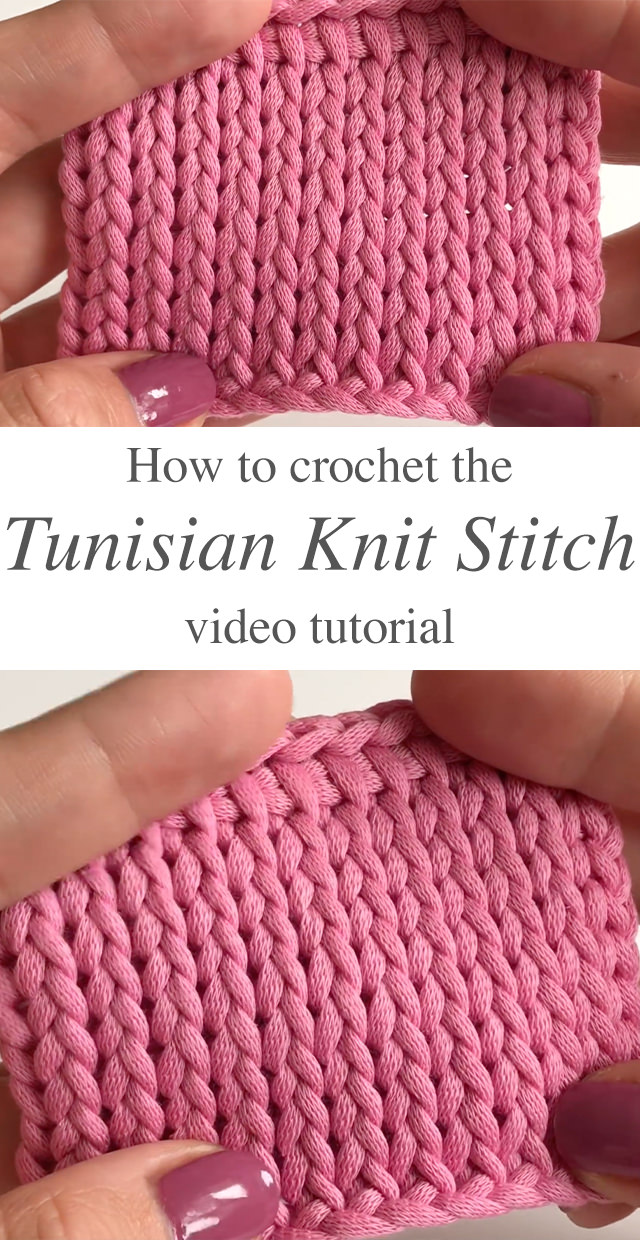 WHAT CAN YOU USE THE TUNISIAN KNIT STITCH FOR?
You can use the Tunisian knit stitch pattern for a variety of crochet projects! In the subject of crocheting clothes, you crochet make an intricate Tunisan knit shawl with beautiful blue and green toned colored yarn. You could even make a variegated Tunisian crochet scarf and a Tunisian crochet t-shirt with crochet flowers attached on the bottom left of the shirt. Other crocheting projects to make with this lacy stitch is a Tunisian crochet pillow, mug, or potholders.
Knit Stitch Related Posts:
Related Posts
The Tunisian knit stitch not only adds style to your home and appliances, but warmth and comfort that any old fancy home lacks.
You need to have a lot of practice with not only crocheting this Tunisian stitch, but also with how to get comfortable holding a crochet hook. While any color will look lovely on this stitch, variegated yarn is the perfect and most eye catching yarn type to use for your Tunisian projects.
This stitch is a combination between the waistcoat stitch in crochet and knitting but much easier. To demonstrate, the first row of the Tunisian knit stitch begins exactly like the Tunisian simple crochet pattern.
Come the second row, you must work up in the V's to create the Tunisian knit stitch which works up quick and easy.It is very important that you insert the hook using the right to left technique at the very beginning of the stitch, then, at the half of row, insert the hook from front to back.
It is essential to follow these rules because if you crochet the Tunisian stitch in the wrong direction, the entire pattern will go wrong.
Thanks so much for visiting! Please, comment below if you have any question! Have fun and enjoy.
Follow CrochetBeja on your favorite social media sites: Facebook, Pinterest, Youtube , Instagram and subscribe for the Newsletter so you don't miss a thing!
Tunisian knit stitch by: Claudetta Crochet.