This free video tutorial covers how to create an easy crochet beanie. Crocheting beanie hats are so much fun to make and easy for beginners to stitch!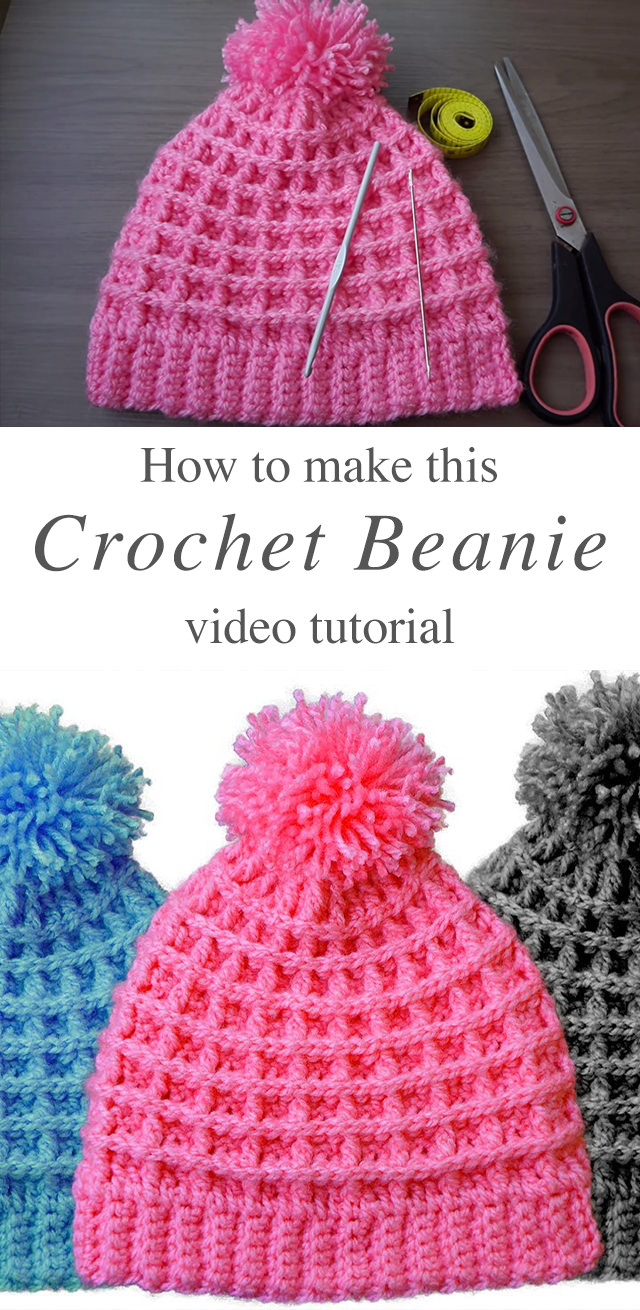 HOW TO MAKE THIS EASY CROCHET BEANIE?
To crochet the waffle stitch, you must chain a multiple of 3+4 and double crochet in the third chain from the hook and in each chain to the end. Watch the tutorial video for the rest of easy-to-follow instructions. The materials used to make this very cute baby beanie are one yarn color of your liking, a size 4 needle, a measuring tape, scissors, and also a tapestry needle.
Crochet Beanie Related Posts:
You can make a unisex fashionable crochet waffle stitch beanie stitch for any sweet baby boy or baby girls who you adore.
But most of all, it is a pleasure that you can get out of stitching this easy crochet beanie hat when you have someone special in mind while stitching it. Crochet beanie hats make the best all-purpose gift! From babies to toddlers, every age group could use a fashionable yet toasty beanie.
Sizes Of This Waffle Stitch Beanie
For ages 0 to 3 months, the hat must be 35cm in circumference and 12cm high.
3 to 6 months age: 38cm in circumference and 14cm high. 6 to 12 months age: 45cm in circumference and 15cm high. For 1 to 3 years: 45 – 48cm in circumference and 16-17cm high. 4 to 10 years age: 48-52cm in circumference and 18cm high. For teenagers and young adults use sizes 52-55cm in circumference and 19cm high.
These size references should only be used when you cannot physically measure for the hat. If you can measure the child, use a tape measure to ensure accuracy.
Not only are crochet beanies easy to make, but there are so many color options, details, and crochet stitch designs that you can use to make your specialised crochet beanie. You could make a rainbow beanie with variegated yarn or, like in the video, you just add a pom pom on top of your crocheted beanie hat. How adorable and chic!
Crochet waffle stitch beanies can look elegant with a matching outfits. A cute beanie also makes the ultimate cozy accessory for the chilly sweater weather in the autumn season. You'll be so excited to stitch this easy crochet beanie for that special child that you'll be planning outfits that go well with this beanie!
Follow CrochetBeja on your favorite social media sites:  Facebook,  Pinterest, Youtube ,  Instagram and subscribe for the Newsletter so you don't miss a thing!
Tutorial and photos of this stitch by: Realza Crochet.