These knitted slipper socks are super easy to make and comes with great details and explanation. This pattern provides room for creativity and colors in the design.
EASY KNITTED SLIPPER SOCKS
There is an old saying that quotes, if your feet are warm, so is the rest of you is quite true. These knitted slipper socks are super easy to make and keeps your feet warm and cozy. They are highly rated by many knitters and designers around the world.
Socks Related Posts:
You can make these gorgeous knitted slipper socks to for your kids, or your loved ones.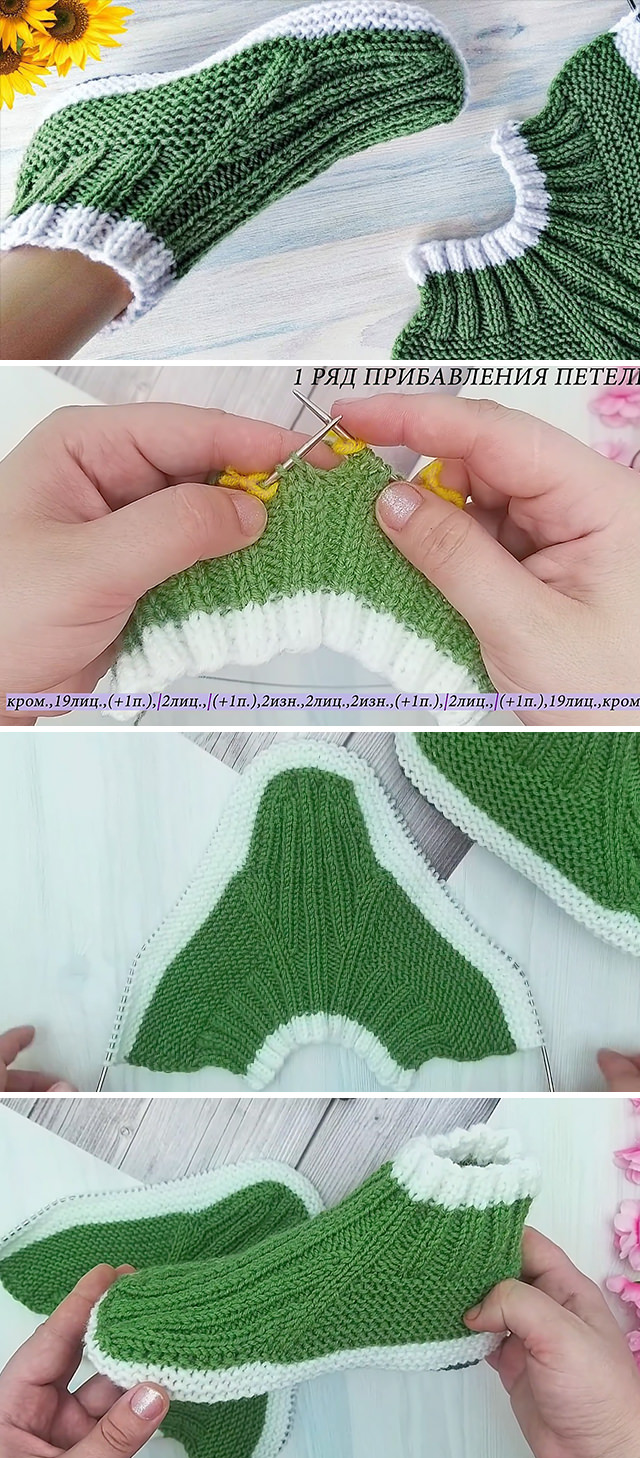 Materials
To create this knitted slipper socks pattern, you will need knitting needles and yarn in color of your choice. The knitting needles should be of 3.5 millimeter and you will start with white yarn. Now dial 50 loops with the help of knitting needles and leave a long tail behind.
Pattern of Knitted Slipper Socks
Knit on 2 knitting needles in this way your edge will be more elastic.
Start with row 0 and go along with it. On the seamy side, 1st edge loop is removed without knitting. Then knit 1 purl and continue to knit further elastic band 2 by 2 front loop, 2 purl, 2 front loop and then 2 purls.
Knit this pattern till the end of the row. In the end you will get 2 loops left on the knitting needle.
Purl loop and hem throughout the entire knitting.
By following this pattern, you will get 4 rows at the end.
Time to add new color in the pattern. Knit with purl loop then 2 facial, 2 purl, 2 facial, 2 purl, 2 facial, 2 purl and this way make 10 rows till the end using this pattern.
By following the same pattern knit 12 rows in height by using same thread.
Now knit the first row of increments. 1 edge loop is removed and we knit up to one marker all the loop with the front and back loops.
By following the above-mentioned pattern, you will complete half part of foot.
Tips
You can also add foot pads inside the knitted slipper socks to give them more stability and durability. Also, the texture of the fabric becomes so thick and warm. It keeps the foot cozy. You can also make these winsome pair of knitted slipper socks in any color you want.
Follow CrochetBeja on your favorite social media sites:  Facebook,  Pinterest, Youtube ,  Instagram and subscribe for the Newsletter so you don't miss a thing!
Tutorial and photos of these slipper socks by: ВЕРОНИКА ЛАЗУТА.