I am sharing a detailed tutorial on how to can make a unique entrelac crochet pattern. You can make beautiful crochet projects by using this pattern.
THE ENTRELAC CROCHET PATTERN
The entrelac crochet stitch is basically a Tunisian stitch. It involves the use of regular crochet hook unlike the afghan or special Tunisian hooks. The enticing entrelac crochet pattern contains colored diamonds and or squares that are organized in a repetitive pattern. The final look of this pattern creates a graphic texture.
Flowers Related Posts:
Related Posts
This stitch is very easy to follow and to remember.
Normally, this entrelac crochet pattern is used for creation if blankets, Afghans or table mats. But you can use it for any crochet project you want. The Entrelac crochet pattern is usually worked in rows creating stripes of diamond in variety of colors. You can also make this pattern in rounds like we do in granny squares.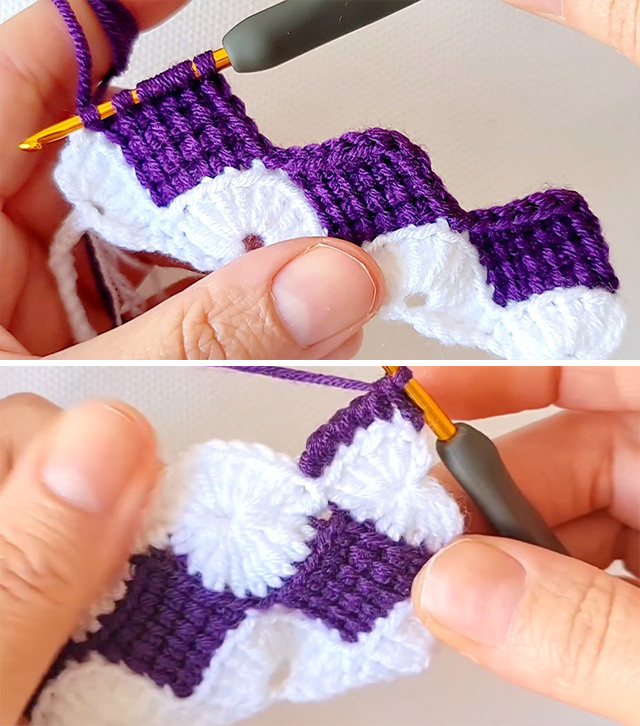 How to make the Entrelac Crochet Pattern?
To make this entrelac crochet pattern you will need yarn of 2 different colors and a crochet hook of 2.50 mm (or according to the thickness of yarn you are using).
Starting with the base color, make a foundation chain of desired length. Then in the 5th chain stitch start making at least 5 treble crochet stitch into the same stitch. After skipping 5 chain stitches make 5 more treble crochet stitches in the same way you have made previously.
Repeat this pattern till the end of the row.
Now switch the color. Pick the secondary color to work entrelac stitch into the cord we have made.
Make 6 loops on the top of the cord. Pull the yarn through the row and make another row on the top of 1st row. Keep the loops on the hook and insert the hook in next stitch and draw up a loop.
Insert hook in the same corner just as joining and draw up a loop. Yarn over and draw through 2 loops on the hook. Repeat until only 1 loop remains on hook.
Make at least 4 rows. Then move to the next square.
Enjoy this entrelac crochet pattern and be sure to come back every day for more free tutorials.
Follow CrochetBeja on your favorite social media sites:  Facebook,  Pinterest, Youtube ,  Instagram and subscribe for the Newsletter so you don't miss a thing!
Tutorial and photos of this pattern by: AYŞENİN ÖRGÜLERİ.