This free video tutorial will teach you how to make an amazing Tapestry Crochet Bag, a lightweight and vintage Boho-chic backpack. Scroll down for a few useful tips to make sure your tapestry crochet bag project looks more like a woven piece as demonstrated in the video tutorial!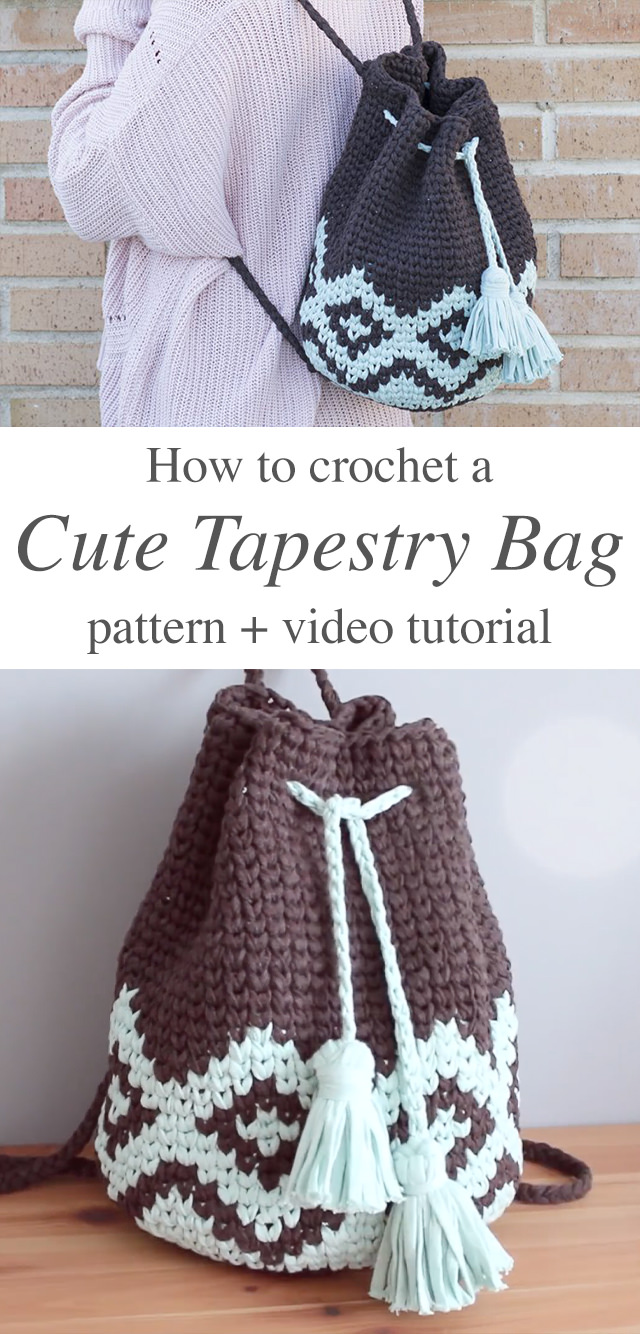 HOW CAN YOU PROPERLY MAKE THE MOCHILA TAPESTRY BAG?
The mochila, meaning bag or sack in Spanish, is very popular in the Caribbeans. The art of crocheting mochilas comes from the Wayuu Tribe in Colombia. The mochila bag can be stitched with the wayuu crochet technique or the tapestry crochet technique, which are very similar. Both techniques are very intricate crochet designs that require a lot of patience and skill.
Crochet bag related posts:
Related Posts
To create a tapestry crochet bag that is durable, long lasting, and has a traditional Boho-chic style, consider these tips.
You can create this exotic mochila bag using the tapestry technique. The tapestry crochet is super fun to stitch because you begin crocheting with a base color of yarn and switch to different colores by changing the yarn as you add in different designs. This method of crocheting is what gives the mochila the artistic, Bohemian-style, free spirited feel.
Be sure that your stitches are tight and measured. The best yarn to use for the purpose of achieving maximum tightness are cotton based yarns. Still, with any type of yarn you use, make sure to be tight with your stitches. If you notice that your crochet mochila tabstry design feels stiff, it is because of the tension due to the tight stitches which also means you are on the right path!
You can also adorn your crochet Boho-chic mochila tapestry bag with beads to add to the vintage look. As for colors, red, orange, and purple colored yarn give the mochilla a tropical feel. Also consider designing it using contrasting colors like brown and mint green to give the bag a bold statement.
Thanks so much for reading and watching!
Follow CrochetBeja on your favorite social media sites: Facebook, Pinterest, Youtube, Instagram and subscribe for the Newsletter so you don't miss a thing!
Tapestry crochet bag pattern & tutorial by: MissDIY.
Mochila Tapestry Bag Video Tutorial: